Dress Code within the Clubhouse
To maintain the standards within the Club, Members and visitors are expected to dress moderately and conventionally. The rules below may only be waived with the permission of Council Representatives.
The casual dress code policy in the clubhouse is as follows:
Jeans must be 'smart' not torn, ripped or cut – even if they were purchased in this way.
Tee shirts must not be 'collarless with a large slogan' although a smart plain collarless tee shirt is acceptable with or without a manufacturer's name.
No camouflage wear.
No work wear.
No tracksuits or training wear.
Trainers must be clean and in good condition.
No outdoor wear – walking boots etc.
Jackets and ties must be worn at all official club functions unless directed otherwise on the social notice board, when smart casual wear will be requested.
---
Dress Code on the course and practice area is as pictured below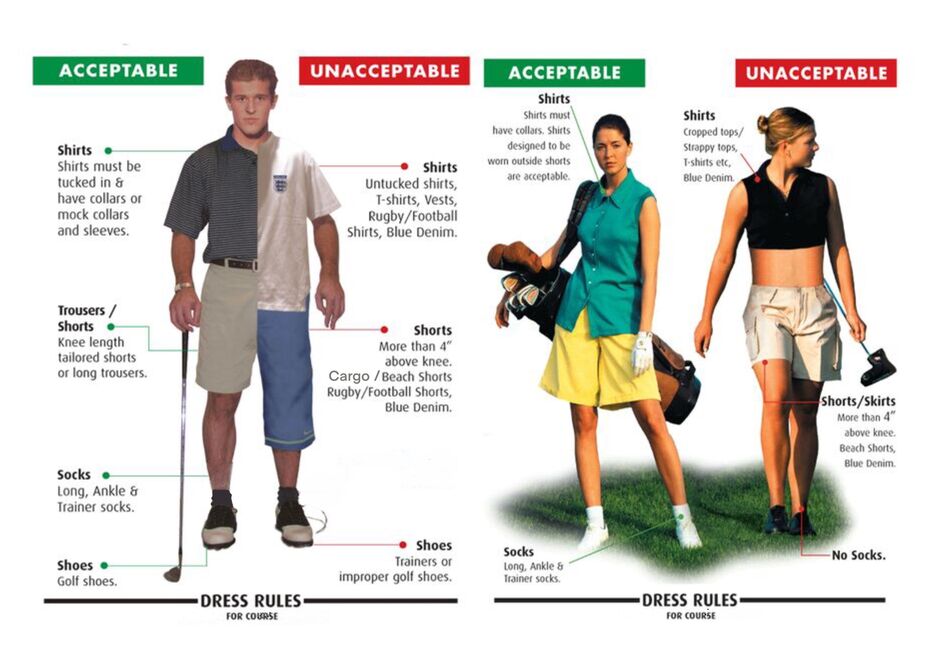 ---
Mobile Phones
Mobile phone use is permitted in the clubhouse, however, when out on the course, they must only be used in EMERGENCIES. This includes all telephone calls, texting or other use in order to prevent slow play on the course.